Advisory

Lord Mayor Cr Donna Davis

Cr Angela Humphries

Cr Cameron MacLean

Committee

Cr Georgina Valjak

Keiasha Naidoo

Vyvienne Abla

Members:

Jon Greig
Dr. Robert Lang
Matthew Lazarus-Hall

Jackie Emery
Marwa Abouzeid

John Moore
Catherine Cunningham

Riverside Management Attendees:

Craig McMaster, Director
Mike Brew, Operations Manager

Tanya Sampson, Business Manager
Catherine Swallow, Program Manager, Sophie Anderson, Marketing Team Leader, Joanne Kee, Exec. Producer NTofP

RAC Attendees:

Jon Greig

Dr. Robert Lang

Cr Angela Humphries

Keiasha Naidoo, Marwa Abouzeid, Cate Cunningham, Jackie Emery, Cr Cameron MacLean

Apologies:

Matthew Lazarus-Hall, John Moore

Lord Mayor Cr Donna Davis, Vyvienne Abla, Cr Georgina Valjak




WE ACKNOWLEDGE THE DHARUG PEOPLE, TRADITIONAL CUSTODIANS OF THE LAND WHERE
RIVERSIDE IS NOW SITUATED, AND THE BURRAMATTAGAL PEOPLE, A CLAN OF THE DHARUG,
WHO SETTLED ALONG THE PARRAMATTA RIVER OVER 60,000 YEARS AGO.

WE PAY OUR RESPECTS TO ELDERS PAST, PRESENT AND EMERGING AND WE ACKNOWLEDGE THE CULTURE, HISTORY AND CONTRIBUTION OF ALL ABORIGINAL AND TORRES STRAIT ISLANDER PEOPLES.


AGENDA ITEMS: Matters for Discussion and Approval

1.

Acknowledgment of Country

Craig McMaster
(Director)

2 mins

2.

Welcome and Apologies



Keiasha Naidoo
(Chair)

2 mins

3.

Disclosures of Interest
Any conflict of interest must be declared at the beginning of
a meeting (or when a matter is raised and discussed if the matter is not on the agenda). The conflict will be recorded in the minutes. If necessary, you should consider leaving the room when the matter is discussed.


Keiasha Naidoo
(Chair)

1 mins

4.

Minutes of Previous Advisory Committee Meeting Nov 17th, 2022
Minutes of prior Advisory Committee provided
For Info only

MOTION: For minutes taken as read and noted

Keiasha Naidoo
(Chair)

5 mins

5.

Director's Report – To Be sent with Agenda
Director to provide a brief overview of Riverside Theatre's current operations, including:

a. Operational update of Riverside



b. Programming and Projects Highlights –
Nov '22 – Jan '23.

- Sydney Festival 2023 Results

- Riverside Festival Gardens

- Sydney World Pride

- Choir Boy / Sydney World Pride Shows

- Website update



c. Financial and KPI's outcomes.

MOTION: Director's Report to be taken as read and noted

Craig McMaster
(Director)





Catherine Swallow (Program Manager)







Sophie Anderson (Marketing and Communication Team Leader)

20 mins

6.

City of Parramatta Council Update

a. General update – key Council Activities

Jon Greig
(Executive Director,
Community Services)



5 mins

7.

Riverside Re-development Project Update Redevelopment – Committee Participation

a. Review and Discussion – Functional Design Brief

b. Process for providing feedback from members.

c. Community consultation approach and role of the Advisory Committee.

d. Redevelopment Working Group – Terms of Reference and next steps



Craig McMaster
(Director, Riverside Theatres)



All

25 mins

8.

Strategic Planning Day Proposed 25/2/2023

a. Proposed timings – after Easter/Anzac Period (late April)

b. Discussion/suggestions re Proposed Agenda / Objectives for the day from Committee Members.

Keiasha Naidoo
(Chair)


Craig McMaster
(Director, Riverside Theatres)



15 mins

9.

General Business

a. General discussion / any other business

b. Education launch – February 23
All welcome

c. Proposed change of date – May Meeting

Keiasha Naidoo
(Chair)

10 mins

10.

Close of Meeting

Next meeting date
Thurs March 16, 2023 at 5.30PM



Keisha Nadoo (Chairperson)

1 min
DIRECTOR'S REPORT
RIVERSIDE THEATRES Nov 2022- Jan 2023
| | |
| --- | --- |
| Meeting Date/Time: | Thursday, February 9th, 2023 / 5.30PM AEST |

1. INTRODUCTION
I am pleased to report that Riverside Theatres Parramatta had a very successful December through January summer season, delivering some very positive commercial and community results during the period. The team continues to develop and perform strongly, with some truly outstanding programming, project and commercial outcomes over the past 3 months.
2. RIVERSIDE PRESENTATIONS / PROGRAMMING
Riverside has had a very successful delivery of our Presentations Program from November to January, which included the critically acclaimed Christmas Actually touring production and the popular Pasifika Film Festival.
Riverside has also experienced its most successful Sydney Festival in many years.
Our major production, Afrique en Cirque, sold over 7500 tickets and ran at 90% paid attendance for the season, generating $400K in Gross Box Office (GBO).
In total, our Sydney Festival shows sold over 11,000 tickets, generating a total GBO of $550,000 – the largest January result for Riverside to date. For more detailed information on Afrique en Cirque, please refer to the attached End of Show (EOS) Summary Report Example.
The Gruffalo's Child also saw a strong turnout during the school holidays with 1600 attendances and played to many happy kids and families.
We are excited to launch our new Morning Matinee Cinema Program on March 16th, targeting the senior market. Our updated Cinema Program also includes changes to our scheduling, with fewer titles but increased screening opportunities and additional weeknight sessions.
A Community Engagement Plan for our Cinema is currently under development, and we have a heightened focus on film festival presentations.
Our 2023 Education Program is off to a strong start, with strong early results for Macbeth (5500 bookings), Possum Magic (2080 bookings), and The Twits (2800 bookings). Our 2023 Education Launch Event is scheduled for Monday, 20 February, and the Riverside Educators Panel 2023 schedule and panellists have been confirmed.
Our Youth Engagement programs, including Upstage Club and Sharp Short Theatre, have also been confirmed. To date, our Education Subsidy Program has provided subsidies to 1080 students in 2023.
The Beyond the Square Drama Program will continue in 2023, reduced to 3 classes per week. However, we face a challenge in retaining our teaching team due to COVID impacts, particularly around the availability of contracting specialist practitioners.
Our Access Program has been confirmed and includes a schedule of all access audience initiatives, including increased frequency of Audio Description and Tactile Tour performances in 2023.
3. COMMERCIAL HIRES UPDATE
Our increased focus on Commercial Hires and program balance has proven successful, with an outstanding result from our Dance School season and other commercial hires in Q2. Although we faced some challenges in employing skilled technicians during the first half due to the ongoing impacts from COVID, we had a successful dance school season with 27 schools performing at Riverside from October to December.
As we move into Q3 & Q4, the commercial program continues to deliver with a number of new major hires secured, including Matador, The Wiggles, Naked Magicians, Kumarsutra and The Mousetrap to name a few.
The increased activity in Hires is on track to turn around the impact of the cancellation from early in the financial year, with our current forecast showing us achieving the hire budget target by year-end.


4. NATIONAL THEATRE OF PARRAMATTA
Riverside's National Theatre of Parramatta (NTofP) continues to develop its position as a major theatre company, with our international co-production for the premiere of Things Hidden Since the Foundation of the World receiving 5-star reviews in the Guardian and a sold-out London run. Planning is underway for its 2024 Australian tour.
Our Australian Premiere production of Choir Boy is currently in rehearsals, with community nights and an international mentorship program for playwrights also in the works.
5. MARKETING UPDATE & REPORT
Our marketing efforts have been successful, with new Riverside website designs endorsed by council and a new Digital Marketing & Comms Officer (Hnin Win) appointed.
We have launched large-scale campaigns for Cruel Intentions, Choir Boy, and Gruffalo's Child, with a new creative campaign for Choir Boy rolled out in recent weeks.
New 'Choirboy' Campaign Key Art
In January the team presented the proposed designs for the new Riverside website to Councillors. The design and project were universally supported and endorsed to proceed. Work is underway at pace with a target for the launch of the new site of mid-April 2023.
6. OPERATIONS & TECHNICAL TEAM UPDATE
Our operational teams have done a fantastic job in planning and preparing the Courtyard for the launch of Festival Gardens, which has received hugely positive feedback from patrons, hirers, and our production partners.
Sydney Festival Artistic Director, Olivia Ansell remarked that Riverside's 'Festival Gardens' was the standout activation of this year's Festival. This has been loudly echoed by our patrons in person and online via the numerous social media posts. The Festival Gardens will run through to the end of the Sydney WorldPride '23 season in late March, and we are currently reviewing plans for after this period.
We welcome David Storey, our new Building and Facilities Coordinator, who brings a wealth of knowledge and experience to the team.
Top of Form
7. PERFORMANCE AND KEY KPI's
Below are the updated KPI stats for Riverside as at end of December 2022.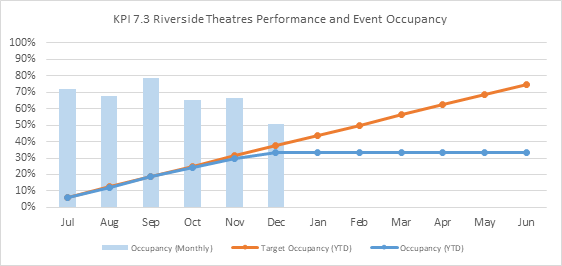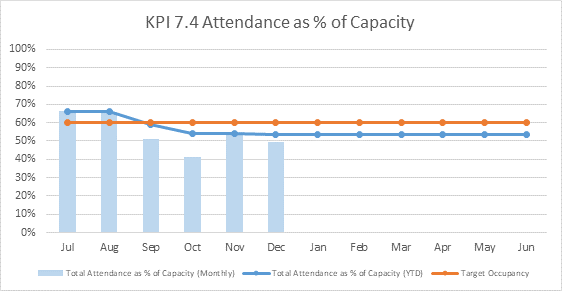 8. FINANCE UPDATE
· December resulted in a 135k deficit against Forecast expectations of a 196k deficit.
· Slightly lower than anticipated revenue was offset by continued reduction in spending on materials and contracts.
· Overall Riverside Theatres YTD results were within forecasted expectations.
· YTD 1,138k deficit vs Forecast YTD 1,280k deficit.
· December was a very busy period at Riverside Theatres as we welcomed back the traditional stream of dance schools for end-of-year performances and new hire events leading into the Xmas and Holiday season.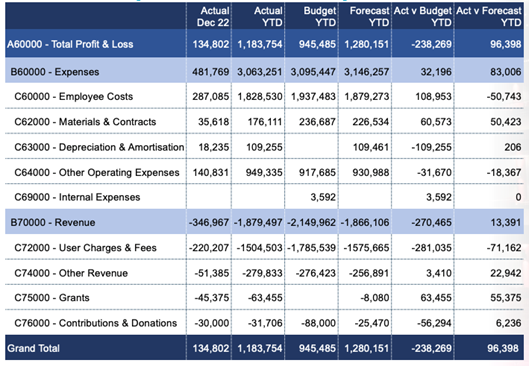 9. REDEVELOPMENT UPDATE
We are very pleased to report that in December, the Business Case for the Riverside Redevelopment was unanimously endorsed by Council.
This endorsement included;
· Approval of the business case and concept reference design budget.
· Approval of funding for the commencement of the Design Excellence Competition.
· Confirmation that the $136.4M in available funds held by Council from the sale of the Powerhouse site and Cultural Fund are to be held for the exclusive use of the Riverside redevelopment.
We are currently awaiting the outcome of our $40M application to the NSW Government for a funding contribution for the project from the West Invest scheme. We expect this announcement is imminent.
In addition, the submission for a Site-Specific Planning consent to address the height restriction issue created last year when the LEP was approved is in final stages of preparation.
The project has also now been endorsed as a Major Capital Project and is in the process of being handed over to Council's Property Development Group (PDG) for design and construction management.