| | |
| --- | --- |
| Item 9.5 - Attachment 1 | Affordable Rental Housing SEPP |
1.0 ABOUT THE AFFORDABLE HOUSING TASK FORCE
Background
·    The Affordable Housing State Environmental Planning Policy (ARHSEPP), which commenced in July 2009, formed part of the State Government's response to the long term decline of affordable housing.
·    The State Government undertook a review of the ARHSEPP and Parramatta City Council made a submission as part of that review in February 2011. PCC's submission raised concerns a number of concerns such as: the need for a demonstrated demand for affordable housing, the management of the affordable housing dwellings, levying for Section 94A developer contributions and the provision of car parking.
·    The current government has committed to a further review of the ARHSEPP. In May 2011 an Affordable Housing Task Force (AHTF) was set up. The terms of reference include: 
o Identification and examination of the nature and type of opportunities to deliver affordable and social housing in NSW
o Developing guidance on the development of local affordable housing strategies
o Development of new policy initiatives potentially including:
§ Legislative tools such as the Affordable Housing Choice SEPP
§ Planning and other incentives options
§ Affordable Housing Design Guidelines
o Improving understanding and perception of affordable and social housing
·    PCC was invited to sit on the Affordable Housing Taskforce reference group and has attended 4 meetings to date.
Framework for the Review
·    Attachment 1 provides the framework for the AHTF review.
·    The key issue with the review framework and the terms of reference for the task force is that it does not easily facilitate opportunities to deal with issues arising out of the current ARHSEPP including problems with operationalising the legislation in the local community context. Might like to rework
 2.0 APPROACHES TO AFFORDABLE HOUSING IN NSW
In recent years the emphasis around affordable housing supply has been on encouraging partnership arrangements between not for profit community housing organisations and for profit developers. These initiatives have been matched with Commonwealth and State grants in conjunction with legislative reforms.  The focus has been on the development of joint ventures working in conjunction with government grants and State based planning incentives.
The other shift that has taken place is from a language around social housing to that of affordable housing, in line with the development of broader income eligibility for dwellings and the housing supply framework. In NSW social housing is predominantly managed by Housing NSW while social and affordable housing units are largely managed through community housing organisations, and some are also managed through specially established private companies.
There is a need for the development of a broad-based affordable housing policy framework that recognises that the planning system is just one part of the framework and will only deliver a small component of affordable housing at a local level. This system should also support individuals and families to transition through the housing system with the ultimate goal of home ownership. See Graph.
<![if !vml]>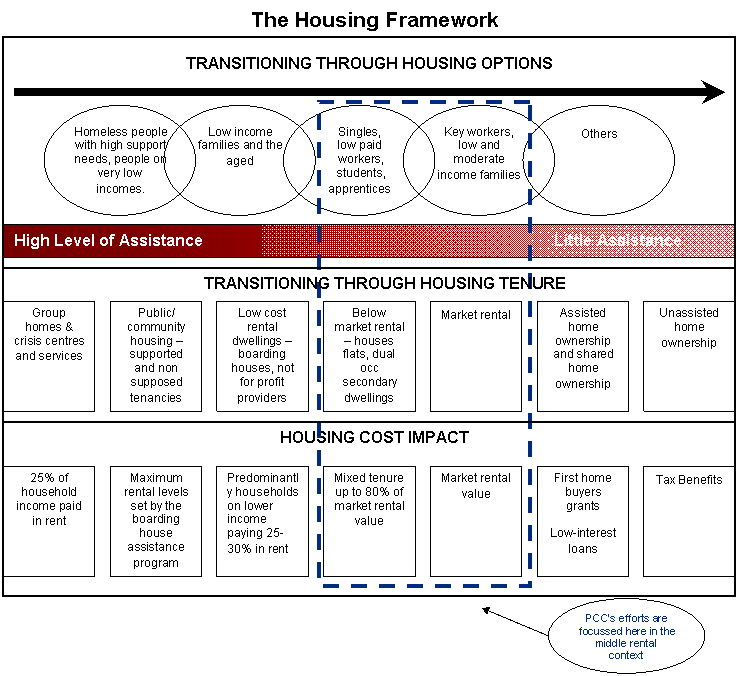 <![endif]>

Parramatta City Council (PCC) is interested in the development of a system that gives Councils more flexibility to work at a local government level. Many of the newly developed affordable housing models have been highly successful. However, it would be fair to say that from a local council perspective some of these have had varying levels of success predominantly associated with the operational components of the tools. In NSW the primary problems have been through the operational mechanism of Statement Environmental Planning Policies tied to Affordable Housing and these will be dealt with in more detail in the next section. 
3.0 ISSUES WITH THE ARHSEPP 2009
Parramatta City Council has a number of concerns regarding the operational components of the ARHSEPP. Each of these is detailed in this section of the report.
3.1 ARHSEPP Part 2 Division 1 Operational Issues Related to Infill Development
Issue: Community concern about inappropriate use of the ARHSEPP by developers to increase density and a lack of local consultation in decision making about appropriateness of the development
·    In spite of the introduction of a character test from 2010 review of the SEPP, PCC still receives a significant number of complaints from community members. These predominantly relate to density increases in zones where development would otherwise not be allowed, visual and acoustic impacts, changes in streetscape and neighbourhood character and a loss of amenity in terms of privacy and overshadowing.
Issue: Accessibility Criteria resulting in poor outcome for affordable housing dwelling tenants
·    While many of the locations for the development proposals under the ARHSEPP are appropriate for the intended target group, some certainly are not. This is primarily because some sites are very isolated from shopping, services and employment precincts and are poorly serviced by public transport or are located in an area difficult to negotiate on foot (no footpaths, very hilly terrain etc).
·    While the ARHSEPP includes access to transport as a requirement and many of the developments meet these requirements, accessibility in this LGA is still questionable based on the following issues:
o The majority of bus services in western Sydney are private; they rarely run in the evening and run infrequently on weekends. 
o Bus routes often change based on patronage bringing into question the permanency of many bus services.
Issue: Poor long term management of the Affordable Housing Dwellings
·    The ARHSEPP lacks any guidance for councils on what should be submitted with a development application regarding the allocation and management of the affordable housing units.
·    There is no information about who will monitor the process or any assurance required by the developer that the affordable housing dwellings will become operational.
·    The experience in Parramatta has been that many of the developments are sold on after approval, bringing the issue of monitoring dedication of the affordable housing dwellings further into question.
Issue: Community perception that the ARHSEPP results in short term affordable housing benefits only at the expense of long term impacts for the community 
·    There is resistance from the community to developments under the ARHSEPP associated with giving advantages in the form of planning benefits to developers on the basis that they are providing affordable housing, with an asset lifespan of at least 50 years, but where the affordable housing component may disappear in 10 years. This results in a benefit to the developer, and potentially the withdrawal of the value 10 years in the future when the issue is likely to be worse.
·    There is no understanding about what happens after this time, either for the actual tenants or the surrounding neighbourhood or community.  
Issue: Question around whether the affordable housing contribution is in fact supporting those who really are in housing need 
·    It is questionable whether the affordable housing contribution is in fact supporting those who need it the most, as illustrated in the following scenario:
·    Community Housing Organisations (CHO) have indicated that in responding to demands from the development sector they attempt to maximise the income from affordable housing dwelling units.
·    In response to this some CHO's bring in independent valuers rather than using the medium rental data from Housing NSW (Rent and Sales Report) to determine the rental value of the dwelling. This results in dwelling units auspiced under the ARHSEPP being charged at 80% of the market value.
Issue: Compliance concerns regarding operation of the dedicated affordable housing units
·    Most of the DAs under the ARHSEPP do not include a management agreement with a CHO. Although conditions are imposed the problem is in monitoring the system once it is in place. Ensuring ongoing compliance over the next ten years would demand a higher level of resourcing, especially when you have over 30 development applications (and growing) like in the case of PCC. This gives little assurance that the dedicated affordable housing units will operate effectively.
·    Some developers have undertaken contractual agreements with CHO's, including letters of support for their DA submission to Council, and then after DA approval sold the project. New owners can contract a different CHO which results in a financial loss to the original CHO around legal fees regarding contractual arrangements.
3.2 ARHSEPP Division 2 – Secondary Dwellings
Issue: Ensuring that future policy supports Secondary Dwellings of good design standard, relevant to the local context
·    Secondary Dwelling component of the ARHSEPP has been adopted by PCC and has been a relatively successful affordable housing initiative.
·    There has been an increase in DA's for this type of development, indicating that locally based affordable housing responses can be very effective.
·    It will be important to ensure that future policy supports quality Secondary Dwellings of good design standards, relevant to the local context
·    Secondary dwellings should be of a design that is balanced with the principle dwelling.
3.3 ARHSEPP Division 3 - Boarding Houses
Issue: The affordability of boarding house accommodation has become questionable
·    The Boarding House components of the ARHSEPP have not always been widely accepted by the community.  Boarding Houses are generally defined as a form of accommodation where a fee is collected which includes rent for a single room and utilities. Residents are required to share facilities such as kitchen, toilet, shower and living room facilities, and they do not have security of tenure provided under a lease.
·    There are two differing opinions regarding the value of Boarding House accommodation. One is closely aligned with the Australian Bureau of Statistics classification which is that people living in a boarding house for more than 13 weeks are classified as "tertiary homeless'. This is because this form of accommodation is seen to be below minimum community standards and is perceived to be a level up from homelessness.
·    The general held concept that boarding house accommodation is "low cost accommodation" has now come into question. Research has shown that the provision of boarding house accommodation does not always achieve the affordability outcomes that it purports to. As identified by Sydney City Council (SCC) the majority of Boarding House operators charge the maximum allowed under the Boarding House Financial Assistance Program (April 2011) which is $323 per week for single accommodation and $538 per week for family or shared accommodation. A small Boarding House room in Parramatta costs $170 a week and a larger room costs $185 - $250 for a couple (sydney.gumtree.com.au 1/11/2011).  The shift of boarding house accommodation from low cost accommodation may reflect the general high cost of accommodation in Australian cities combined with limited rental vacancies.
·    Predominantly Boarding Houses have become the principle form of accommodation for people whose limited finances leave them without a rental bond and therefore little choice in a difficult rental market.
·    ARHSEPP provision should be strengthened to require secondary dwellings to incorporate design features similar to the principal dwellings, such as roof design and wall colour and textures.
Boarding Houses - Student Accommodation
·    The only specific student accommodation provided in Parramatta LGA is at University of Western Sydney (UWS) under the control of 'Campus Living Villages' which is a profit based international student housing organisation. This organisation currently provides 350 dwelling units across Western Sydney, and is located at the Corner of Pemberton Street and Victoria Road Parramatta. It is located around 15 minutes by bus from Parramatta CBD. The accommodation costs are $185 for a single room in boarding house style accommodation. With the projected expansion of UWS, this is likely to become an increasing issue.
Issue: Developers pushing boarding house compliance standards
·    The compliance Standards 30 (e) for Boarding Houses specifies that; "if the boarding house has the capacity to accommodate 20 or more lodgers, a boarding room or on site dwelling will be provided for a boarding house manager". The majority of applicants have submitted a development with nineteen rooms so that they do not have to provide an on-site manager even when sites have the capacity for more rooms. This has implications for the operation of the boarding house as there can be significant numbers (19) of disparate people located in close proximity using shared facilities and living spaces.
·    Additionally there is an issue of 2 Boarding Houses being located next to each other.
3.4 ARHSEPP Part 3 - Retention of Low Cost Rental Housing
Issue: Administration, assessment and use of funds collected as a result of loss of affordable housing
·    Part 3 of the ARHSEPP addresses the loss of affordable housing and requires a developer to pay compensation as a result.
·    Under this section councils are required to carry all the cost of administration and the mitigation/compensation process including the calculation of the contributions. The funds are then given to Housing NSW. 
·    In this situation there is no link between the loss of affordable housing in an LGA and the compensation/ mitigation process.
·    In addition the problem with this system is that any funds collected under this mechanism are dedicated to Housing NSW Boarding House funds. Only 3 LGA's have any significant boarding house stock and they are Sydney City Council, Botany and Waverly. The current situation results in a loss of affordable housing in an LGA such as Parramatta, with no direct mitigation measure within the LGA. 
·    It is recommended that any such payments should come to Council to be expended on projects arising from the local Affordable Housing Policy.
3.5 ARHSEPP - Division 7 Group Homes
Issue: Impact of group homes as complying development
·    PCC is concerned regarding the potential impact of allowing Group Homes as Complying Development without a reference to minimal standards such as number of bedrooms or any requirements for shared facilities such as a communal room.
·    The primary concern with Clause 45 Complying Development which says that a Group Home complies if specified in Clause 1.18 and 1.19 of the State Environmental Planning Policy (Exempt and Complying Development Codes 2008) and does not refer back to Clause 43 (1) which says a Group Home can be built without consent if they have no more than 10 bedrooms and are carried out on behalf of a public authority.
·    In the current ARHSEPP Clause 45 sits alone. Developers have taken this to mean that a Group Home can be built with unlimited bedroom numbers and by any person. This is a significant gap in the legislation and has serious consequences for the community and a neighbourhood level.
·    PCC raises this concern because it has received a number of notifications from private certifiers for Group Home approvals where they have a significant number of bedrooms, for example 29 bedrooms.
·    In addition, because these developments are being approved by private certifiers the adjoining owners are given no notification or opportunity for comments prior to construction. Adjoining owners will only become aware of the development on the day construction begins.
·    PCC is concerned that large group homes have the potential to become poor quality overdevelopment. In the end it will be the Council who will have to spend its resources addressing the concerns of residents once they become aware of the issue.
·    The definition and description of Group Homes needs to be improved.
·    Group Homes should not be the same as studio apartments (e.g. private kitchen and bathroom facilities).
The table below outlines the developments that fall into this category in Parramatta thus far:
Table - Complying Development (ARHSEPP) - Private Certification for the Group Home developments under the ARHSEPP in Parramatta.
CD/318/2011 – 59 Victoria Road Parramatta, two storey comprising 14 bedroom Group Home, value of work $1.030m
CD/317/2011 – 61 Victoria Road Parramatta, two storey comprising 17 bedroom Group Home, value of work $1.283m
CD/354/2011 – 22 Lamonerie Street Toongabbie, Group Home 29 bedrooms, value of work $2.475m
CD/352/2011 – 732 Victoria Road Ermington, Group Home 25 bedrooms, value of work $2.19m
CD/355/2011 – 730 Victoria Road Ermington, Group Home 25 Bedrooms, value of work $2.19m
CD/347/2011 – 50 Darcy Road Wentworthville, Group Homes.
3.6Developer Contribution (S 94A)
Issue: Unclear and overly complicated Section 94A process relating the ARHSEPP developments as well as developers refusing to pay Section 94A contributions  
·    Section 94A has an important role in the funding of local infrastructure and support services which in turn are used by local residents, particularly those with high needs.
·    The problem for PCC is that there has been a process of conflicting information from the Department of Planning and Infrastructure around the issue of Section 94A dedications as they relate to the ARHSEPP and as a result the issue has become a complicated administrative process as outlined below:
Infill Development and S94A
·    There has been ongoing confusion related to infill development and whether a developer contribution is required.
·    Council takes the position that the developer is gaining planning benefits in exchange for the dedication of the percentage of units to be rented out at 80% of the market value to 10 years. In this situation the developer has already gained a number of substantial incentives and Council cannot understand why there would be any additional benefits given regarding the non-payment of developer contributions. Firstly the overall development only provides a percentage of affordable housing to be dedicated for 10 years. As already explained earlier developers are maximising the amount of rent they can get from the affordable housing accommodation. In the end the residents or owners of all the units will all access council infrastructure and services in one way or another and therefore Section 94 contributions should be paid.
·    Some of this confusion is linked to a ministerial direction issued in 2006 prior to the introduction of the ARHSEPP by Minster Sartor. The direction related the right to impose a levy under Section 94A and developments for the sole purpose of affordable housing.
Land and Housing Corporation – Section 94A
·    There has been an ongoing issue regarding Housing NSW objections to paying developer contribution on developments under the ARH SEPP.
·    Many of the Housing NSW developments result not only in a substantial increase in the residential densities but also concentrated people who in turn have a higher than average need to access different levels of social and community infrastructure.
·    When the ARHSEPP was reviewed in 2010 and concerns were raised regarding the Department of Housing not making developer contributions. The review indicated that a different approach was taken regarding nation building initiatives and that Housing NSW would revert back to its previous approach in the future of paying developer contributions. The suggested response was that; "Housing NSW to pay contributions determined in accordance with the relevant Council Contribution Plan unless a ministerial exemption is in force" (Affordable Rental Housing SEPP Review December 2010). However, due to the 2006 Ministerial direction (outlines in the previous section) this means that Council who have a Section 94A developer contribution system are being unjustly treated.
Group Homes
·    Any development outside the Parramatta CBD does not require a Section 94 payment if the development is less than $100,000.
·    If the development is between $100,000 and $200,000, 0.5 % of development costs is required and over $200,000 - 1% of development costs.
·    A higher threshold applies to single dwelling houses of $300,000.
·    However developers who have 'Group Home" developments worth over $2 million dollars are refusing to pay developer contributions (S94A) based on an argument that they fit the definition of affordable housing based on the 2006 Ministerial Direction and therefore no developer contribution is required.
The Need for a Clear and Uncomplicated Developer Contribution Process
The Department of Planning and Infrastructure Fact Sheets 2001 give directions that the AHSEPP does not affect the levying of developer contribution under Section 94 of the Environment Planning and Assessment Act 1979. However, the previous 2006 Ministerial Direction indicates that a levy under section 94A cannot be imposed on development for affordable housing.
PCC would like the Department of Planning and Infrastructure to revoke the 2006 Ministerial Direction removing the inequities in the system against Councils who use section 94 or section 94A and will also supporting the charging of developer contribution in a clear and transparent way.
3.7 Land And Housing Corporation – Residential development
Issue: Minimal process for consultation with land and housing corporation developments
·    Although the ARHSEPP requires Housing NSW to consult with neighbours and local council and to consider urban design guidelines in the assessment of development proposals Council's experience is this has often been little more than a basic notification process.
·    Council will make comments which are not responded to by Housing NSW and no feedback is provided as to why the concerns have not been addressed.
·    Outlined below is a case study which details some of the concerns and how they were addressed by Housing NSW.
Case study - example of Concerns regarding Housing NSW proposal
·     In 2011 Housing NSW notified Council of a development proposal under the (Affordable Rental Housing SEPP 2009) (Seniors Living development) 75 -79 Fallon Street, Rydalmere NSW. It included the demolition of existing Housing NSW detached dwellings to build 11 Seniors Living dwelling units.
·     The proposed development has a number of non compliance issues in relation to street character, setbacks, tree removal, open space access, driveways conflicts and noise impacts all of which are not easily resolvable. Safety concerns were raised as residents with disabilities will have to navigate across driveway to access their dwelling units. In addition the development did not provide a lift making it difficult for people to 'age in place', which ironically is the primary purpose of such development.
·     The noise problem was substantial the Housing NSW Noise Study found that the impact of external noise intrusion from Silverwater Road was so significant for those units located at the Silverwater Road end of the site that they would not comply with noise standards specified in the Building Code of Australia, unless the windows were closed. The primary mitigation measures recommended to address the problem was the inclusion of a 'Building Natural Ventilation' system into the building structure which will allow air to enter the internal parts of the building with the windows closed.
·     In terms of social impacts the area lacked a reasonable level of available community infrastructure; the nearest local Doctor is approximately 1,600 metres from the proposed site and the nearest local shop is approximately 1,500 metres away. The site has limited access to transport, the nearest bus service is an uphill walk from the site of approximately 1,000 metres and the nearest rail station was even further. ABS data for the areas indicated that car ownership for Rydalmere is higher then Parramatta as a whole. This suggests that car ownership may be a necessary form of transportation in Rydalmere and raises concerns about the appropriateness of a development for seniors in this location.  The limited accessibility of the site raised concerns for Council regarding the demand for community services such as Meals on Wheels and Homes and Community Care services. This also links back to concerns regarding the non dedication of S94 by Housing NSW on developments.
·     Housing NSW had notified Council of a development proposal under the (Affordable Rental Housing SEPP 2009) (Seniors Living) in 2009 for the same site. This proposal had 6 dwelling units rather than 11 however; the design was more sympathetic and addresses many of the non compliance issues such as setbacks, streetscape and noise impact in the 20011 design proposal. On the other hand neither of the Housing NSW proposals addresses access to public transport or community facilities. 
·     The proposed development for a 'Seniors Living' proposal at 75 -79 Fallon Street Rydalmere raises some concerns regarding the requirements of the ARH SEPP that developers are required to address the accessibility requirement while Housing NSW do not appear to give the issue any weight. 
Suggestion: It is recommended that any reforms to the instrument should include a requirement for Housing NSW to response formally back to Council addressing the issues raised in Council's submission.
4.0 THE WAY FORWARD
·    The current ARHSEPP has potentially negative impacts for Parramatta's local community.
·    Council officers suggest the need to lobby State Government for changes based on the issues outlined above via the AHTF.
·    More immediately it is suggested that Council write to the Minister for Planning and Infrastructure as a matter of urgency to address the issue of complying development for group homes.
·    Council staff will continue to work on PCC's AH Policy and Implementation Plan, to support appropriate strategies for the local context to meet local needs. A report to the February 2012 Council will provide an update on the progress of policy implementation and plans for the next steps to move forward at the local level.