| | |
| --- | --- |
| Item 9.13 - Attachment 2 | Proposal from ICE |
Information and Cultural Exchange (ICE) Proposal – Home Sweet Home
THE IDEA
Home Sweet Home is a participant led interactive installation. The brainchild of Lucy Hayhoe and Abigail Conway, both graduates of Goldsmiths and directors of Subject to_change, Home Sweet Home has become an underground hit internationally, as they have worked with the British Council to generate new communities in London, Tokyo, Edinburgh and LA.
Subject to_change strive to make live art works that defy theatrical convention by challenging the boundaries of artistic 'performance'. Their home sweet home communities are performances that offer the spectator a unique, immersive and playful experience that strive to re-appropriate the traditions and etiquette of theatre and art.
Home Sweet Home is all about live interaction as you contribute to a piece of art as it is built around you in an undercover space in a location in Parramatta.
You can register in advance or turn up on the day to participate in the generation of a new community. Beginning by selecting a plot from the "estate agents", you are given a small flat-pack cardboard house to assemble and customise on a floor map amidst a gaggle of your future neighbours. The boundaries of the town are laid out in advance with key environmental and geographical features as well as land plots for home dwellings in place.
Materials are provided, but you are welcome to bring your own. A supply room is stocked full of materials to decorate your home and the possibilities are endless as your imagination takes over.
The building of this miniature village becomes an interactive experience as neighbours start to talk to one another and make plans for their community. Residents decide street names and neighbourhood issues are addressed through regular collections and deliveries of mail and through the election of a residents committee. There is also a local radio station, which allows communication between the residents and the district member of the County Council and gives airtime to local issues. The cardboard town soon becomes a living, thriving community, ending with a street party and opportunities to tell your own stories.
As you express yourself through stories, glitter and glue an evolving narrative grows and questions about the nature of community emerge. Of course, when the street party heralds the end of the project, and the community is dismantled, residents can take away their house and so carry with them a trace of the community that was, and their role within it.
Home Sweet Home's popularity might reflect the western world's property-owning obsession, it also makes us ask questions about the nature of community, about how art is made - and who owns it.
Some people spend their whole lives thinking they aren't creative, this project proves that this is not the case. Home Sweet Home is an innovative model for an exchange of ideas and principles; it can teach us about how community behaves, generate curiosity around design thinking and notions of public and private space and create an opportunity to form a sense of genuine community during Sydney Festival.
<![if !vml]>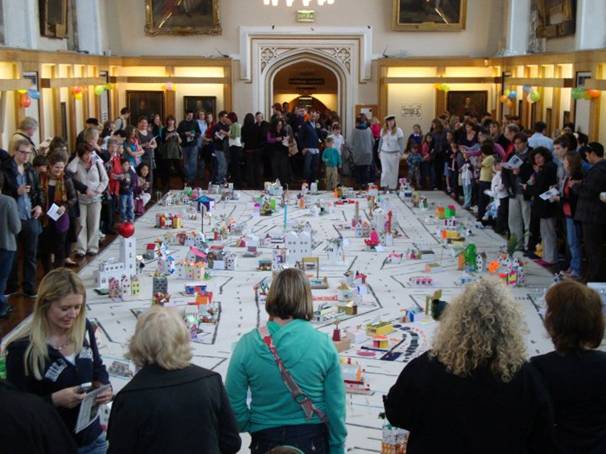 <![endif]>