| | |
| --- | --- |
| Item 9.9 - Attachment 2 | Coolatai grass - Hyparrhenia hirta |
<![if !vml]>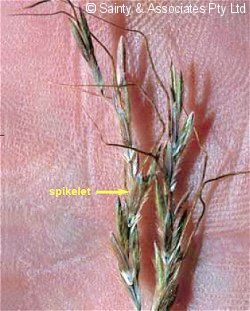 <![endif]>Alternative Name(s): Tambookie Grass.

Family: Poaceae.

Form: Grass

Origin: Native of Africa and the Mediterranean region.

Flowers/Seedhead: Seedhead to 90 cm long. Flowers all year round.

Description: Tufted perennial to 1.2 (rarely to 1.5) m high. Leaves 2–4 mm wide, green to blue-green, often with a whitish bloom; ligule 2–4 mm long. Spikelets in pairs, mostly with the lower spikelet sessile, 3–7 mm long and with or without an awn 10–25 (rarely to 35) mm long, the other spikelet 3–7 mm long, on a stalk and awnless.

Distinguishing features: Distinguished by paired racemes; racemes 1.5–5 cm long with 5–13 awned spikelets; spikelets with whitish hairs.

Dispersal: Spread by seed.

Confused With: Hyparrhenia filipendula, Tambookie Grass, which usually has 2 awns per raceme and Hyparrhenia rufa, Jaragua Grass, which usually has reddish brown hairs on spikelets.
Spikelets with whitish hairs

Notes: Introduced for soil stabilisation in the Coolatai area. Locally abundant on the north western slopes of New South Wales and adjacent areas in Queensland but spreading to other areas and locally dominant on roadsides where it is displacing most other grasses and herbs. Now invading pasture areas. Not favoured by stock but a useful feed if not allowed to seed. Regrows rapidly from the crown following fire.

References:
Flora of NSW. G. Harden (ed), Vol. 4, 1993, pages 497–500. AusGrass: grasses of Austalia. D. Sharp & B. Simon, 2002.

Web References: Search Australian web sites for further information on this weed.
<![if !vml]>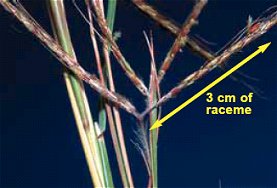 <![endif]>     <![if !vml]>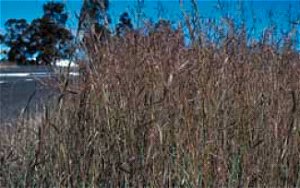 <![endif]>
Paired racemes, Sandon Point, NSW, May                      Dominating roadside, Tamworth, NSW
photo J.R. Hosking