"My submission concerns the proposed extension of delegated authority for the approval of development applications by staff, instead of by the public's elected representatives, the Councillors.
Unless 7 objections are received on a DA, it will not be considered by Councillors.  The sole purpose seems to be the speeding up of assessment.  Are there any statistics to show that this will be the case?
Council's Notification Policy shows that in some situations not even 7 neighbouring residents are notified of DA's on adjoining properties, as in the case of dual occupancies and single dwellings.  I have had good reason to question staff on its assessment of DA's.  This has led to uncovering of errors and the introduction of policies and procedures to correct them.  However, my efforts to monitor the processes have been frustrated by staff failure to provide statistics and other information I had requested.
Recently, staff error resulted in the appointment of an independent consultant to assess a DA.  It revealed several important matters that the staff assessment had not taken into account.  Although the consultant did not recommend refusal of the DA, she brought about improvements in it that staff had overlooked or ignored.  Apart from this, she disagreed with staff calculation of the floor space ratio, even though staff has claimed to me that it has introduced a special process to avoid inaccuracies.  The difference between the two calculations was approximately the combined floor area of two of the bedrooms.  Management have shrugged off all the issues, saying there are no unresolved matters.
Why is it that proposed changes on established policy, such as this one on delegated authority, are not exhibited for public comment?  We had the same situation with the Compliments and Complaints Policy, with Council claiming that the changes are only minor.  I disputed this, as well as other matters. Both of these policies are very important to the residents and ratepayers.  By contrast, the Outdoor Dining Policy was exhibited for two months.
I am not confident in the increased delegation of authority to staff while so many issues such as these remain unanswered.
Could I please have a full response to these matters and not just to the specific questions I have asked?"
Further Questions Raised by Mr Berry on 4 May 2010.
My inquiries on what other policies Council has chosen not to exhibit for comment have been ignored, the response being simply that where it is required by law, the policies have been exhibited.
At the Council meeting on 12 October, 2009, it was resolved that a detailed report on Council's accountability processes is to be presented. It has still not been presented after 7 months. Can Council give any valid reasons why delegated authority to staff should be extended before this report is made available?
Senior Management has told me that is only "likely" that the accountability report will be presented to Council and that it "will form part of the public business paper for the meeting it is presented to." Could I have this confusing situation clarified?
The report to be considered tonight states that it takes Council 63% longer to process development applications than by delegated authority. Would Council agree that the main reason for this is that delegated authority does not deal with the larger, more controversial DA's which also have wider social and environmental implications? If not, what other considerations are there? Would Council also agree that much of the delay is caused by staff requests for further information from applicants?
Only 9% of DA's are now considered by Council. With such a big reduction in workload, what reasons can be given against reduction in the numbers of Councillors or in their salaries, particularly when an increase in the salary of the Top Executive has recently been approved by Council and in Closed Session?
It was resolved that the delegated authority issue was to be considered at Council Meeting on 27 April but the Executive Team changed this to the May Regulatory meeting. On what authority was this done and what is the composition of the Executive Team and the agenda review committee?
RESPONSE
By Ms Sue Weatherley - Group Manager Outcomes and Development
"Thank you, Mr Berry, for your detailed submission tonight. 
The report you refer to was considered by Council at its meeting on 12 April 2010.  Your submission appears to assume that the recommendation was to change the delegations - this is not true.
The report recommended:
That Council re-affirm the decision of 9 March 2009 regarding the functions delegated to the Chief Executive Officer that relate to the determination of development applications,……
It should also be remembered that prior to March 2009 there were extensive delegations to staff to determine development applications.
You appear to be concerned that setting a delegation threshold of 7 objections is not justified and in your view appears to be based on the desire to speed up the assessment process.  Your submission also questions whether there are statistics that support the view that the determination of DAs by Council officers is quicker than the determination by the full council.
I will deal with each of these points separately.
Your first Issue – That the reason for delegations to staff is to speed up the process.
The decision the Council will make in relation to delegation to the CEO on all range of matters will be based on the efficient and effective operation of the organisation. 
Parramatta City Council is committed to ensuring that all its services are efficient as possible within the limits of financial constraints and legal obligations of the Council.  For any council, having an appropriate framework of delegations is essential for  the efficient and effective operation of the business of the Council. It allows Councillors to focus on the critical and strategic issues of the Council.
Documents from Department of Local Government state:
The power of delegation is an important tool that assists council officers to carry out the functions of council in an effective and timely manner. Delegations need to be made in accordance with sections 377-381 of the Local Government Act 1993 and should be continually reviewed to ensure they remain current.
Recent information provided by the Department of Planning shows that Parramatta Council has one of the lowest levels of delegation to Council staff.  The State average reported by the Department in 2008/2009 was 4% of applications determined by Councillors and 96% determined by Council staff. Financial year to date, Councillors of Parramatta City Council have determined 9% of all development applications. 
All consent authorities are encouraged to have an efficient DA assessment system  to ensure this contributes to housing affordability, by reducing holding and other costs.  Efficient DA systems also have mirco-economic benefits to our economy by reducing development costs.
Your Second Issue – Are there any statistics that show that DAs determined under delegation are done more quickly than those determined by Councillors?
The short answer is yes.
Below are 2 histograms that show the assessment time for DAs determined by Council in this financial year. A histogram shows the frequency of distribution of the different DA assessment times. The first histogram is the DAs determined at a Council meeting.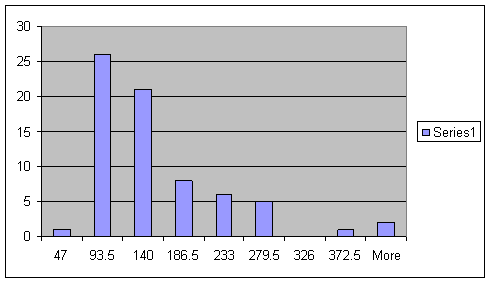 For DAs determined under delegation the histogram shows: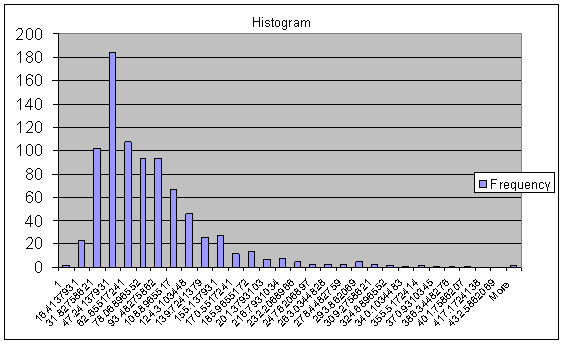 The following table provides a summary comparison of assessment times which are gross times (ie no stop the clock) for recent years:
Year

Determination

Number

Gross assessment  time (days)

Mean

Median

2007/2008

Council

165

181

150

Staff

971

108

66

2008/2009

Council

127

213

176

Staff

995

110

94

2009/2010

Council

69

131

112

Staff

847

80

63
Currently on average a DA determined by the Council takes 63% (or 51 days) longer than a DA determined under delegation.
Whether a DA is determined under delegation or by the Council, it generally follows a similar process.  The one distinct variation is that the report for a council meeting is prepared by the assessment officer about 3 weeks before the decision is made by Council.  For a DA determined under delegation the decision can be made within 2 or 3 days of the report being finalised.
If an application goes before Council and it is deferred for further information or discussion, this delays the application for 4 weeks, until the next Development Meeting. 
The following run charts for DAs determined by Council and DAs determined by staff also show this variation.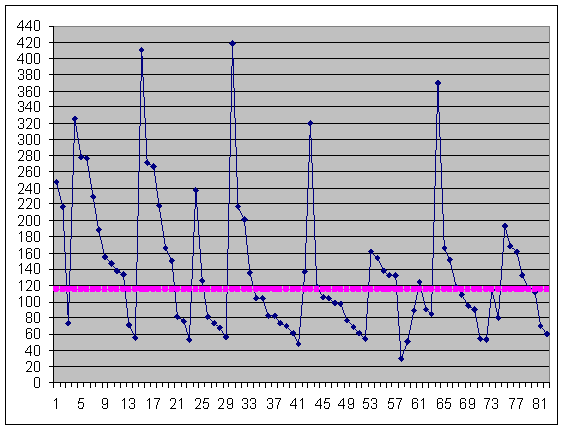 Your next issue is: 7 submissions is not an adequate threshold as Council's Notification Policy shows that is some circumstances 7 people will not be notified.
I am not sure that I completely understand the point being made.  I can confirm that in some circumstances less than 7 people may be notified of a DA. However, this is clearly not the standard. I reviewed 20 DAs lodged from 1 March 2010 until the 4 March. Nineteen DAs were either notified or advertised.  On average 32 notification letters were sent for each DA.  This included 11 letters sent for alteration to a domestic garage, 10 sent for an awning to the rear of a house and 29 sent for a new dwelling house.
Incidentally I gathered this data by reviewing information readily available on Council's website.
Is there a perfect number of submissions, is it 6 or 8?  In my view it is more important that the Council is satisfied that there has been a strong level of oversight on how DAs are determined.  For example, Parramatta City Council has a public DA tracking system, staff regularly to report to the Councillor on DAs received and DAs determined, we also report formally to Council on any application determined where there has been a variation to a development standard.  The Council also has a process of community site meetings and the delegations provided to the CEO in March 2009 made it clear that the most controversial DAs should be determined by the Council.
The Department of Local Government has also stated in relation to delegations on DAs:
If council is unhappy with development decisions, it needs to focus on what it can do with its strategic planning framework rather than seek to remove delegations.
(Mosman Council May 2007)
Your Next Issue ;  You claim you have good reason to question staff on the assessment of DAs  as this has led to changes to processes and policies and that your efforts to monitor have been frustrated  by staff failure to provide statistics and other information requested.
I have investigated several matters raised by you since I have been at Parramatta Council; I am not aware of any matter that has led to a change of policy.  But I am aware of 2 matters that you raised that have supported the need to improve processes.  I would not characterise this as your investigation causing the change. One of these related to improving the PCA processes and was not related to the assessment of a DA. 
If I have misinterpreted your enquiry, please contact me to clarify this matter.
I am not aware of a request for statistics from you. I am however happy to provide any information about mean, mode, median, standard deviation, histograms and run charts, provided this is reliable data that the Council holds and the provision of this data can be at a reasonable cost. The Department of Planning also has a performance reporting data on their website and I will provide a copy of the 2008/2009 report.
I am aware of claims that copies of a policy was not provided to you, although I sent this to you twice, and it was a document available on the website so there was clearly no attempt to hide this policy.
When I first arrived at Parramatta Council I offered to meet personally with you to understand your concerns and take the opportunity to discuss your concerns.  This, I felt, would be a far more productive process than a series of extensive public forum presentations and lengthy written responses.  Such processes are inherently slow and do not provide for a sharing of information and productive dialogue.  However, you did not wish to take up this offer. Recently I also requested that you meet with me with regard to development you believe is not being undertaken accordance with consent, so that you can point out on site the concerns you have.  Again, this offer was rejected.
I therefore understand why you feel somewhat frustrated in your dealings with Council staff. Current processes are not facilitating effective communication.  I would again therefore invite you to meet with me personally.  My phone number is 98065101, or 0417237077.  My email address is sweatherley@parracity.nsw.gov.au.
Your next issue: A recent staff error led to the appointment of an independent planning consultant.  You claim that this revealed important matters the staff report did not.
In relation to the alleged officer's error of a recent DA, the appointment of a consultant in this case was to provide councillors,  all objectors and the applicant with confidence that any recommendation had not been predetermined.  Both planners who looked at this application came to the same conclusion and recommended the application for approval.  However, both planners also had a slightly different approach to the assessment of the application.  I have to say this is not uncommon and it is probably what you would have expected.  If the two reports were exactly the same, there may have been some suspicion of collusion.
The specific example you provided is the calculation of floor space ratio.  Your submission claimed that the FSR was 0.63:1, which would mean that the development would have exceeded the council standard of 0.6:1.  The council officer using a computer program calculated the FSR at 0.49:1.  The independent planner using manual calculation method calculated the floor space of the building as 456.73m2.  She also states that the site area is 943.4m2.  This makes the FSR 0.484:1 I consider this variation inconsequential.
In relation to this particular DA, you have also a number of other claims about the processing of this DA:
You claimed that that the officers had illegally approved this DA, this was not correct.
You claimed that the method used to determine height should be by reference to the A-A section and therefore staff calculations were wrong, this was not correct.
You claimed the FSR was 0.63:1, this was not correct.
Your next issue: You claim that any change to delegations should be subject to public notification.
I believe that this is not consistent with the requirements or intent of the Local Government Act, which makes it clear which actions of the council require consultation with the community, such as the preparation of policies.  However other administrative actions such as the appointment of the General Manager, the determination of the organisation structure, and the establishment of Committees do not. 
The powers of delegation are contained in section 377 of the Local Government Act….
The reason the Outdoor Dining Policy was exhibited for 2 months was because the policy had initially been exhibited over the Christmas period and an administrative decision was made to extend the exhibition period for another month.
Lord Mayor I believe that this is a full response to Mr Berry's concerns.  However, if he is still unhappy with my response, I will again invite him to meet with me at his own convenience to discuss these issues further.  I would also recommend that he reads the State Government Planning Performance report prepared by the Department of Planning which considers the issue of DA processing throughout the State.
Lord Mayor I wish  to advise the Councillors that this reply took me approximately 12 hours to prepare."