| | |
| --- | --- |
| Item 8.3 - Attachment 1 | Submission Document Bartlett Par |
ATTACHMENT 1
Proposal for Bartlett Park
Future Use
657-661 Victoria Road and 4-6 Wharf Road, Melrose Park
BACKGROUND
∑††† Total land area of 4.85ha which includes 2 lots owned by RTA with land area of 1,765m2.
∑††† Used as a tip for road materials waste until late 80ís
∑††† Part of site used for Putt Putt complex since 1969. Lease for 21 years entered into on 22 June 1984. Lease is also over land owned by the RTA (see map) which has been under the care, control and management of Council since 1965. Council land is classified as community land.
∑††† Lease expired and operating on a monthly tenancy.
∑††† Current lease continues to operate on 7.5% of annual income which was the basis for the rent calculation in 1984.
∑††† A number of resolutions passed by Council to look at viable uses for site over the past 10 years or so.
∑††† In June 1972 Lots 2 and 3 in DP 588575 were dedicated to Council pursuant to a DA to erect a church building with associated parking on the corner of Hughes Avenue and Victoria Road. The lots were dedicated for public reserve. However a licence agreement was signed in 1976 giving the then Trustees of the Ermington Gospel Trust a licence to use the Lot 2 for car parking purposes. The land has been used for car parking from 1984 to the present by the Ermington Gospel Trust for car parking. The licence can be revoked by the licensor, Parramatta City Council, at any time. Lot 2 has an easement for high voltage power lines traversing the land and as such has limited development potential.
∑††† Council Meeting of 25 July 2005 resolved that;
†
<![if !vml]>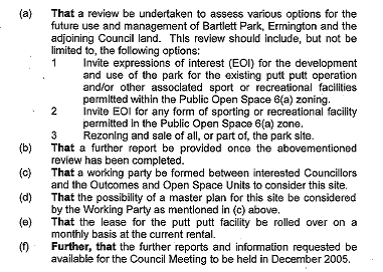 <![endif]>
∑††† Staff Working Group formed in August 2005, commissioned and reported on the Geotechnical Report of Jeffery and Katauskas of October 2005. This report recommended further testing once a specific use was decided.
∑††† The completed testing revealed uncompacted fill from a depth of 0.9m to 5.8m. Bedrock was found at depths of 2.7m to 7.0m. Contamination testing revealed nil or low levels for commercial or industrial uses.
∑††† Approaches made to the RTA as to whether they would sell the two parcels in their ownership. They indicated that a sale would be contemplated at the market value if the lots were to be used for the enhancement of community purposes. Otherwise a sale could proceed but further negotiation would be needed on the method of sale.
∑††† Between 2004 and currently several approaches were made to Council to consider particular forms of development on the land such as golf driving range and other sporting activities such as Ozgoal. All approaches have been told that the site is under investigation and until the Council has determined a course of action that no uses would be considered.
∑††† Sydney Projects appointed in 2006 to conduct a review and to furnish a Report on the Future Use Options of Bartlett Park. The report considered a number of differing options ranging from residential medium density to retail to industrial or bulky goods development. No definitive recommendations were made by the report but concluded with what it considered to be the next steps;
††††††††††† <![if !vml]>

<![endif]>
<![if !vml]>

<![endif]>
∑††† Council Working Party complete a Report in September 2007 having considered the Sydney Projects Report and their conclusions and further action recommendations are contained in this presentation.
∑††† Further Geotechnical investigation completed by Jeffery and Katauskas with a 30,000m2 development and basement parking considered in their report.†
∑††† Draft LEP for the Parramatta LGA is currently under review.
Graeme Bleus
Property Development Advisor
12 May, 2009